Blog
Posted by Brian Moon on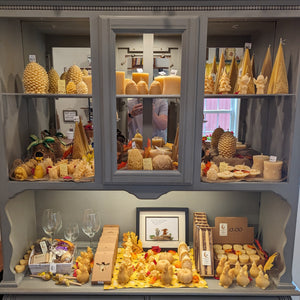 Beeswax candles offer several advantages over candles made from other types of wax, such as paraffin wax or soy wax. Here are some reasons why people prefer burning beeswax candles: Natural and Renewable: Beeswax is a natural substance produced by bees. It's renewable and biodegradable, making it an eco-friendly choice compared to paraffin wax, which is derived from petroleum, a non-renewable resource. Cleaner Burning: Beeswax candles produce very little soot when burned. In contrast, paraffin candles can create a significant amount of black soot that can stain walls, ceilings, and furniture. Non-Toxic: Beeswax is non-toxic, and it doesn't release harmful...
Posted by Brian Moon on
Posted by Brian Moon on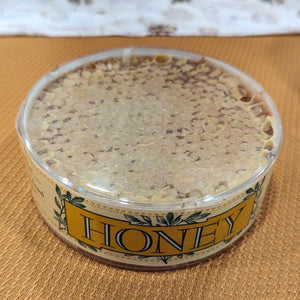 Comb honey refers to honey that is sold in its original beeswax comb. In traditional beekeeping, bees build comb cells made of beeswax in their hives to store honey and raise their young. Beekeepers can harvest honey in two primary forms: as liquid honey or as comb honey. When beekeepers collect comb honey, they cut the beeswax comb directly from the beehive without extracting the liquid honey from the comb. The comb is cut into pieces, and the honey within the cells remains intact. This results in a product that includes both the honey and the edible beeswax comb. Comb...
Posted by Brian Moon on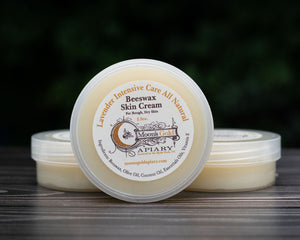 We received a wonderful letter from a customer about our Natural Intensive Care Skin Creams (Lavender) and wanted to share it with you all. This is why we do what we do. Good morning - I think it's been close to 5 years ago now when a friend gifted me a container of your Lavender Intensive Care Beeswax Skin Cream.  Seriously, I have always treated this product as if it's gold, which in my book it truly is!  This little container has traveled over the years with me from Rhinebeck (where it was gifted to me), and onward to and...
Posted by Brian Moon on
These are the natural benefits of our products: Avocado Oil: Contains high amounts of protein; good for your skin. It is rich in antioxidants, making it useful for healing damaged skin Beeswax: Makes an excellent bacteria-resistant base for cosmetics; provides UV ray protection; when burned lets off a negative charge that attracts dust; Furniture protection and conditioning Caster Oil: makes soaps lather so well Coconut Oil: Skin softener and helps retain the moisture content of your skin Honey: Helps alleviate allergies; All natural energy drink that boosts memory; Cough suppressant – Sleep aid – Natural antibiotic both internally and externally....
---